wave~seed II - a compilation for the frontline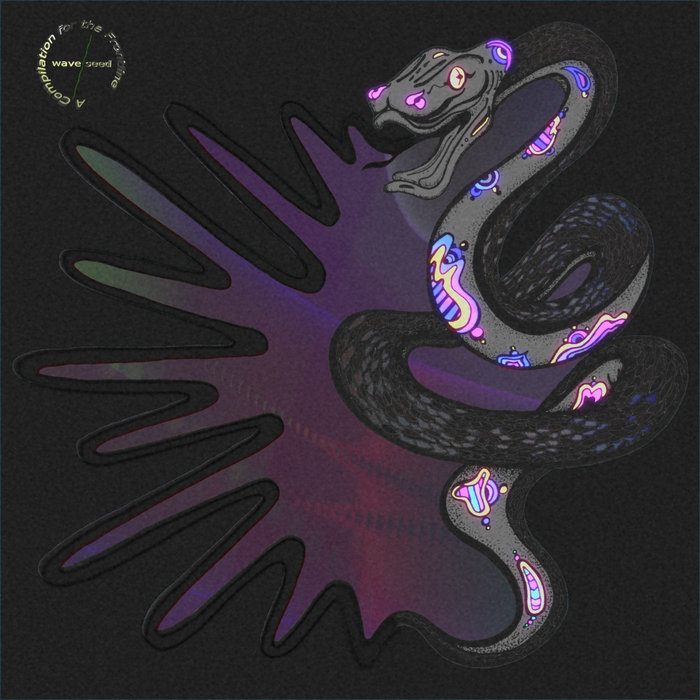 wave~seed II

an audio-visual compilation for the frontline
(view videos on our YouTube channel:  bit.ly/3v7BRKX)

Ithaca-based event series and label Microtones announce their second volume of wave~seed, a fundraising compilation series. This issue is a full audio-visual compilation, released on Earth Day, and fundraising for Amazon Frontlines' project kick-started by Waorani leader Nemonte Nenquimo (see  bit.ly/frontlineschallenge).

Microtones and Acid Camp affiliate otodojo shares a bit about the compilation:

"through over-dependence on fossil fuels, a subsequent runaway greenhouse effect, and deforestation for oil and agriculture, we are approaching terminal decline of delicate ecosystems that harbor more biodiversity in plants per hectare than entire continents. The ones who live and depend on these ecosystems for their livelihood are at the frontlines of protecting them.

This compilation serves as a drop in the bucket to aid the frontlines of this struggle and as a vibrational prayer moving forward. Each track is inspired by a different aspect of environments."

We're working with Bandcamp to maximize the donation amount that gets through to these organizations. if you're unable to financially commit to this compilation and desire to download the tracks, please send us a message on instagram (@microtones.ith). You can also donate direct to Amazon Frontlines, show us the receipt, and we'll send you a download code.

Track Overviews:

1. pReconnect - 'Voices in the Rain' is inspired by seeds, their arrangement, their growth, and experiences in the Amazon and Andes. The track sets the tone of the compilation, calm and somber, yet hopeful -- linking together our consciousness directly with the surrounding environments. The debut track from this collaboration combines the presence of ethereal vocals with minimalistic accents of bass tones and reverberated FM synth lines to create a soothing and asynchronous blend. The accompanying video by otodojo explores the melding of vocalist Joannalyn Delacruz with watercolors and droplets of rain - water flows through us and is us.

2. Kenya Kanazawa - 'ehail-xhail A-M' is a track that revolves around breath, for breathing is one of the clearest examples of consciousness. Taking a moment, inhale oxygen completely and exhale carbon dioxide completely. Doing it consciously, you feel your body, you feel your blood stream. Beyond breathing, even when you eat, when you walk, you are living consciously -- Kenya was thinking about this concept when quarantined in June 2020. The parallel video by ACE is also a meditative portrait, yet one reconciling with deforestation and pollution -- it starts with the growth of a barren fractal L-system tree matted on a quickly changing sea covered in oil that slowly disintegrates within a StyleGAN generated coral setting. In this video ACE depicts how we have compromised the air we breath and provides a conscious hope moving forward.

3. Superstition Fiction - 'Never Too Late' is a phantasmal composition that brings together an improvisational vocal melody inspired by flowing water from G R A C E layered on a base of resonant chords and fully delayed drums. The accompanying video from the Loveland Studio of Design brings a neural network melding of inanimate and human forms bringing together the idea that there is no separation of us from our environment, we are one and the same.

4. Ali Berger - 'Soft Drama' is inspired by the complex web of interactions within and between plants that we cannot see -- the activity that happens at a microscopic level and to whatever extent plants have senses and are able to communicate with each other. The accompanying video by Julie Malice takes that aspect to a higher resolution with a focus on carbon: its ubiquity in known life and its ability to unite us on a molecular level. As much as we imagine ourselves to be separate from nature, fundamentally we are made from the same materials.

5. impakt - 'bird sounds' is inspired by birds and how similar they are to sounds generated by modular synths/music making machines. The accompanying video from otodojo interprets this through a spacecraft with birds that flock around 3D oscilloscope sculptures.

6. Tenkai Kariya - 'desert 5' is a dreamy ethereal breaks track that brings Shinichi Atobe's naming convention and simplicity to mind. This is accompanied by a psychedelic desert view from Kyodai -- the temperature of the video oscillates as it slowly unfolds, bringing an experience in Joshua Tree through a melted lens.

7. sergio cote barco - 'noise(s) in prime rhythms (hearts n' rains)' was born from experimenting with pink noise and the different ways to manipulate it. Pink noise has a close relationship with nature, as we hear it in waterfalls, rivers, wind, and sometimes when the wind moves the leaves of trees. When Sergio was asked to participate in this project, he first made tests thinking about rhythm. He automated different bands of filtered pink noise to beat and different rates. When he heard the results of these experiments, he could not avoid thinking about heartbeats, especially those we hear in ultrasounds. He thought it was stunning that we could relate the sound of pink noises to this too. After it, he connected to the sound of constant pink noise, which is connected to rain. But this rain in the track appears really distant, almost like a memory or a product of our imagination. After creating the track, he thought that that rain might be connected to the urban feelings that a lot of Colombians (which sergio is himself) have towards the Amazon; in urban centers, the Amazon rainforest appears distant, imaginary, and lost; even though it is part of their country. The accompanying video from otodojo interprets this unison of our hearts, the rain, and nature in an audio-reactive meditation.

8. otodojo - 'uproot and replant - an ode to forests' is a track that starts by bringing in personal field samples from the Amazon and using droning bass and wave-shifting noise to represent the perils of encroaching deforestation. The subsequent filter-enveloped FM accents bring us to an aquatic zone, evoking imagery of oil spills in rivers. Halfway into this journey, there's a distinct transition that sounds like trees falling — followed by sonic imagery of a river moving through with a suite of instruments. The journey ends bittersweet, acknowledging the struggles to come yet bringing in the courage to change it. Maria Takeuchi's visual interpretation of this track was focused on water as an essential for all living things. In appreciation of the beauty that exists within the laws of nature, the visuals were inspired by the movement of fluids and generated to compliment the variety of surreal textures in otodojo's sound.
https://www.youtube.com/playlist?list=PLxlWzfx92UfM3TF7nnwQgYmqYb-_4gVQS
credits
released April 22, 2021

Album art by Ray Difasi (colored by otodojo)
Music videos by Maria Takeuchi (ÉMU), Julie Malice, ACE, Loveland Studio of Design, otodojo
Mastered by otodojo (except for tracks 2 & 5)
Special thanks to Gab for the emblem design concept.